Industry Institute Collaboration
Industry Institute Partnership Cell has been established at IENT for the purpose of coordinating between industries and IENT. The cell promotes and strengthens the interaction between industries and IENT and acts as liaison office, which makes the process of upgrading research process to cater the needs of industries.
Technology Transfer for Tire Pyrolysis Plant
Pyrolysis plant is an Unit that converts waste plastic & tires into Pyrolysis Oil, Carbon Black & Hydrocarbon Gas.
End products are used as industrial fuels for producing heat, steam or electricity. Pyrolysis plant is also known as: pyrolysis unit, plastic to fuel industry, tire to fuel industry, plastic and tire recycling unit etc.

Pyrolysis plant falls under following categories of industrial projects:
Waste to energy project
Waste plastic and tire pollution control equipment
Renewable energy project
Petrochemical
We establish large scale pyrolysis plants on Institute Industry Collaboration(IIC) basis . The total turnkey supply includes of machinery designing & simulation, equipment manufacturing, supply, installation, commissioning, technology transfer and operational training.
Advantages of pyrolysis plants manufactured & supplied by TyrePyros Systems:
Purest quality of pyrolysis oil as finished product
Use of green technology to achieve Environment friendly processes
Both plastic & tire can be used as raw material
Continuous type pyrolysis process
Breakthrough technologies used to improve safety, profitability & ease of operation
More than 90% of machinery parts are non-moving: this reduces the recurring maintenance.
Proven machinery and technology since 2005
Industry is energy self-sufficient
No external fuel required for heating
Following diagram shows the typical process flow.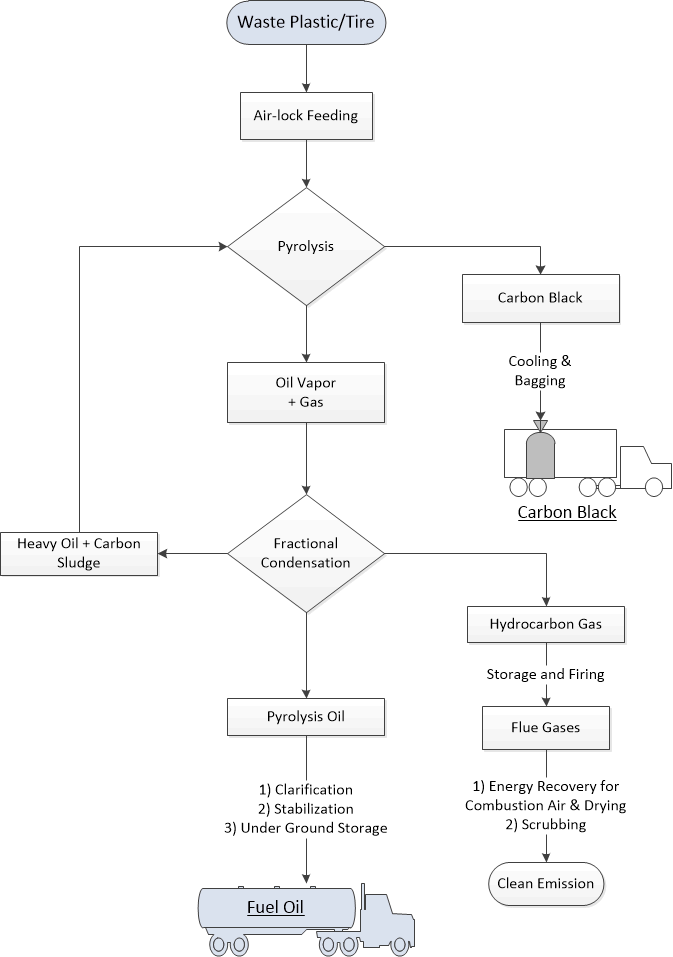 Pyrogas Enrichment Project Proposal